Nicholas Wood
Collage et dessin

nicholas.wood@free.fr
0241391561
C'est de l'illustration, des trames de bande dessinée ou bien de lents instantanés. C'est monté en collage, fait de papier et de colle, de pigments et d'encres. On y trouve des motifs, des textures des matières. C'est du dessin. Du crayon noir, du pastel blanc. Ca raconte des parcours, des promenades, des instants, des ambiances, le temps qui passe…
It's illustration, cartoon strips, unhurried snapshots. Its collage, an assembly of paper and glue, pigments and ink. There are patterns, textures and lines drawn in black pencil, and white chalk. It talks about getting from A to B and about idle ramblings, catching instants, narrating the passing of time…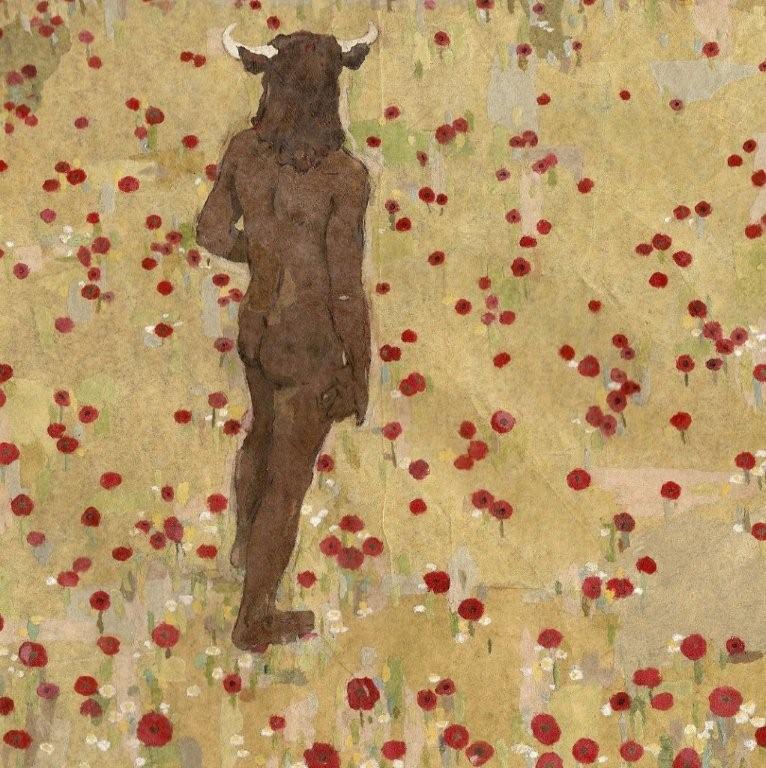 Artiste européen installé à Angers depuis 2003, je suis né en Grande Bretagne en 1966. J'ai étudié l'illustration et la bande dessinée à l'Institut Saint Luc de Bruxelles où j'ai vécu dix ans.
Membre fondateur du collectif « La Cinquième Couche », j'ai participé dans les années 90 à l'essor et l'effervescence d'une nouvelle bande dessinée indépendante en Belgique au travers de diverses manifestations et expositions collectives ainsi que la revue périodique La Cinquième Couche.
J'explore au travers d'un medium fixe le mouvement, les parcours et le passage du temps. Par l'influence de la bande dessinée j'interroge les vecteurs de narration dans l'image et les séquences. La bande dessinée permet une lecture particulière, une narration sur plusieurs niveaux, de multiples facettes dans le maniement du récit
Les lieux de passage, et notamment les métros, lieux où les rapports et les comportements sont étroitement codifiés, sont des sujets centraux dans mon travail.
Mes oeuvres sont essentiellement en collage. Un premier travail sur le papier même afin de constituer une bibliothèque de divers types de papiers teints ou colorés, imprimés de textures et de motifs. Ces papiers constituent ensuite une palette pour l'élaboration, construction d'images. Il s'agit d'un travail méticuleux, structuré par un dessin au crayon pour mieux tenir la narration. De ce jeu de superposition et de juxtaposition de couleurs et de formes naît un univers de matières où l'image prend vie.
_______________________________________________
Born in Dover in 1966, I now live in the French city of Angers. After a degree in French and ancient history at the University of Leicester, I studied illustration and the graphic novel at the Institut Saint Luc in Brussels where I lived for ten years.
As a founder member of the strip cartoon cooperative « La Cinquième Couche », I participated in the nineties in the development and dissemination of a new independent approach to the graphic novel in Belgium through a series of events and exhibitions and the eponymous periodical "La Cinquième Couche".
Through a static medium I explore movement, journeys and the passage of time. Drawing of syntax of the strip cartoon I look to develop narrative vectors in individual images and sequences. Cartoon strips can be read in different ways, carrying a story on several levels, and open up a wide range of narrative options.
Transport infrastructures, and in particular underground railways, where the behaviour of and relationships between passengers are heavily codified, have been central themes in my work.
I work primarily in collage, initially preparing and dying paper to make up a library of colours, textures and patterns. This assorted body of paper then serves as a palette for quite literally building up images. Certain images are enhanced with pencil and pastel in order to strengthen the narrative thread.
Through a superimposition and juxtaposition of colours and forms the image comes to life.